Sudbury Smile Center
Posts for tag: invisalign
By Millbrook Smiles
August 17, 2018
Millions of Americans require orthodontic treatment every year, but traditional metallic braces are not always an ideal or convenient option for older teenagers and adults. Invisalign is a more discreet and less invasive option to correct common bite and alignment problems, without braces. Dr. Reina Garcia, a dentist in Sudbury, MA, offers Invisalign and other cosmetic and general dentistry services at Millbrook Smiles.
Get Straighter Teeth with Invisalign in Sudbury, MA
Like braces, the Invisalign trays gradually shift your teeth into the correct alignment over time. However, instead of wires and brackets, Invisalign consists of custom designed, clear, removable trays. In addition to the discreet nature of the Invisalign system which is virtually undetectable to the naked eye, the trays also have a number of benefits that contribute to your comfort, ongoing oral hygiene, and quality of life during the treatment period.
Additional Benefits to Straightening Your Teeth with Invisalign
The biggest benefit of Invisalign for most people is the aesthetic advantage over metallic braces. Although orthodontic treatment is fairly common, even among adults, they can be disruptive and cause embarrassment and discomfort in social and professional situations.
But there are several additional practical advantages to choosing Invisalign for your orthodontic treatment. The trays are removable for up to two hours every day, which allows you to continue eating your favorite foods, without the dietary restrictions and limitations that are typically necessary with braces. More importantly, you can continue to maintain your regular oral hygiene routine and brush and floss every day while using Invisalign.
If you have issues with grinding or clenching your teeth, the trays may also serve as a light night guard to protect your teeth. Each tray is worn for approximately two weeks and then discarded for the next tray in the series as your teeth shift into place. In some cases, the treatment period may be shorter with Invisalign than with traditional braces.
To learn more about the benefits of Invisalign clear aligner trays and whether they are the right option for you, contact Millbrook Smiles in Sudbury, MA by calling 978-443-5500 to schedule an appointment with Dr. Garcia today.
By Millbrook Smiles
August 14, 2017
Are you interested in straightening your teeth with Invisalign but have a few questions about the process? Our Sudbury, MA, family dentist,
Dr. Reina Garcia, can tell you how Invisalign works.
Trays, not wires, do all the work
Traditional braces use a system of wires threaded through brackets attached to your teeth. Adjusting the wires periodically moves the teeth into the desired positions. The Invisalign system achieves the same results as metal or ceramic braces without wires and brackets.
Removable aligner trays gradually change the position of your teeth by placing gentle pressure on them. You'll receive an entire series of trays, each designed to carry out a particular goal in the orthodontic process. Trays are worn for 20 to 22 hours per day and are replaced approximately ever two weeks.
Your trays are designed using a computerized 3D image compiled from X-rays, digital photographs and digital impressions. Adjusting the image in our Sudbury office allows us to view a virtual representation of the way your teeth will shift during your treatment.
Invisalign offers unique advantages
Invisalign offers excellent results but doesn't call attention to your appearance. When you straighten your teeth with clear aligner trays instead of wires and brackets, it won't be immediately obvious that you're improving your smile every time you smile, laugh or speak.
Invisalign also makes eating and oral hygiene easier. If you wear traditional metal or ceramic braces, the length of your oral hygiene routine will increase significantly. Removing food stuck on and between wires and brackets can be time-consuming. Luckily, no special cleaning protocols are needed with the Invisalign system. After you remove your trays, you'll brush and floss the same way you always have. Because you'll also remove your trays to eat, you won't have to worry about prying stuck-on food from your trays at the end of the day. Although you can drink water without taking out your aligner trays, drinking colored beverages may stain the trays.
Even though Invisalign aligner trays are designed to be comfortable and unobtrusive, you may occasionally want to remove them if you're participating in an activity. The trays can be removed when you play sports or may be left behind when you attend a special event.
Are you interested in learning if you're a good candidate for Invisalign? Call our Sudbury, MA family dentist, Dr. Garcia, at (978) 443-5500 to schedule an appointment.
By Millbrook Smiles
January 05, 2013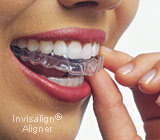 For adults with a reasonably well fitting bite, but mild to moderate crowding or spaces between your teeth, clear orthodontic aligners can be an ideal solution for straightening your teeth. This is why we offer this treatment option to our patients experiencing these issues. However, for those of you who are unfamiliar with what they are or how they work, this will give you a brief understanding.
Clear orthodontic aligners consist of a series of clear "trays" that fit snuggly over all teeth to slowly shift them into alignment. Patients are typically required to wear them 20 hours per day for about 2 weeks before progressing to the next tray. With each new tray, you are one step closer to achieving your goal of perfectly aligned teeth. The entire process usually lasts 6-18 months depending on how much movement is required to achieve the goals.
Each aligner is individually made from very precise molds of the patient's teeth to ensure proper fit. And we map out the entire alignment process using computer generation from each patient's initial molds so that we can identify the number of trays required. But best of all, clear orthodontic aligners are perfectly smooth with no rough edges like traditional braces, and you can remove them for eating, brushing, and flossing teeth as well as for brief social events.
To learn more about this topic, read the article "Clear Orthodontic Aligners." Or you can contact us today to discuss your questions or to schedule an appointment.