Sudbury Smile Center
Posts for tag: gum disease
By Millbrook Smiles
February 09, 2017
Knowing what gum disease symptoms to be on the look out for could help save you a lot of problems in the future.
With the CDC reporting that half of the adults in the US have gum disease, it's so very important that you are on the lookout for any changes that warrant a trip to see our Sudbury, MA, family dentist, Dr. Reina Garcia. From not flossing regularly to not brushing properly, there are many reasons why gum disease can manifest. Gum disease undergoes multiple stages. In the earlier stage it can be reversed, but once it has reached a more advanced stage it can lead to more serious health issues.
What are some early signs to be away of?
In the beginning stages, gum disease is very minor and you may not even know that anything is wrong. This is why those regular dental cleanings are an important part of your health. It's during these visits that our Sudbury dentist will be able to detect subtle changes in your gums that could mean gum disease.
Classic early signs include having swollen, sore or red gums. You may also notice that your gums bleed, particularly when brushing or flossing your teeth. In some cases, you may even start to see that your gums are receding, which will make your teeth appear longer.
Fortunately, this early stage, known as gingivitis, is reversible. We will provide you with the best tips for caring for your smile at home to prevent it from turning into full-blown gum disease.
How will I know if I have a more advanced form of gum disease?
Those with more advanced stages of gum disease will notice the signs we mentioned above, as well as loose teeth or even tooth loss. You will also be more likely to deal with tooth sensitivity because as the gums recede they will also expose the roots of your teeth. You may notice chronic bad breath or a bad taste in your mouth. If you notice an abscess, a pimple-like growth, forming on the gums these are all signs that require immediate dental care.
If you are experiencing any of these issues above it's important that you turn to Millbrook Smiles in Sudbury, MA, right away. We can examine your smile and determine whether or not you have gum disease. From there we can create a treatment plan to help manage your condition effectively and improve the health of your gums.
By Millbrook Smiles
January 03, 2017
If you have gum disease, you're probably wondering about your options for treating it. One of the most widely-used and effective ways of
eliminating gum disease is through scaling and root planing, a deep-cleaning procedure offered by Dr. Reina Garcia, your family dentist at Millbrook Smiles in Sudbury, MA. You can learn more about this treatment here.
What is gum disease?
You probably know that plaque is the substance that causes cavities to form on the surface of your teeth. Unfortunately, plaque's destruction doesn't stop there. When this bacteria-laden substance is allowed to collect in the mouth - a process that usually takes about 24 hours - it begins to harden into tartar. At this point, it begins attacking healthy gum tissue and causes gingivitis, the milder form of gum disease. The gums begin to swell and no longer fit tightly against the teeth, creating a "pocket" for which more bacteria can reside. The progression of bacterial collection creates bone loss and tissue damage, at which point your Sudbury family dentist may diagnose you with periodontitis.
How does scaling and root planing help?
As mentioned before, scaling and root planing is a way of deep-cleaning the teeth to eliminate tartar. The process starts with scaling, in which we use a small hand-held tool to scrape the tartar deposits away from the teeth. Root planing involves the same type of treatment, but a slightly different and more delicate tool is used to clean the exposed roots of the teeth. These tools may be manual or ultrasonic, which means they vibrate rapidly to assist with the removal of plaque and tartar, and also create tiny air bubbles that oxygenate the areas.
Gum disease can be well-managed with special products and instruments at home, but scaling and root planing must be done to start the process. Contact Millbrook Smiles in Sudbury, MA to make an appointment with Dr. Garcia today.
By Millbrook Smiles
October 15, 2013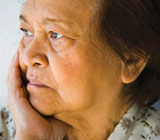 If you have recently noticed swelling, bleeding or pain in your gums, you may have developed a gum abscess. It's the result of periodontal disease, an infection in the gum tissue caused by bacterial plaque that has adhered to the teeth. It's important in the short term to treat the abscess, and in the long-term the underlying gum disease for the survival of the affected tooth and your overall health.
A gum abscess is a sac filled with infection that has developed between the tooth and gum. Besides swelling, you may also notice tenderness when you bite down on a tooth or feel that the tooth is loose. If the abscess originates from a root canal infection it tends to be much more painful, and the pain will seem generalized rather than from a specific tooth.
The first step in treatment is to drain the abscess. We would numb the area with a local anesthetic and then allow the infection to drain. After drainage we would clean and irrigate the infected root surfaces to remove any noticeable bacterial plaque, and possibly prescribe antibiotics and anti-inflammatory medication to reduce swelling and pain. The drained abscess should heal in a few days to a week.
The next step is to treat the underlying cause of the abscess. Depending on what we find in our examination, this can include root planing and scaling (deep plaque and tartar removal), or a root canal treatment where the infected pulp within the root canal is removed, and the canal is then cleaned, filled and sealed.
It's also a good idea for patients with gum disease to have a thorough health checkup. It's possible that other general health conditions such as diabetes or heart disease may be contributing to the gum disease, and vice-versa.
Treating a gum abscess and the underlying cause is about more than relieving pain or discomfort — you're also protecting your dental and general health.
If you would like more information on the treatment of abscesses or gum disease, please contact us or schedule an appointment for a consultation. You can also learn more about this topic by reading the Dear Doctor magazine article "Periodontal (Gum) Abscesses."