Sudbury, MA Candid Co
Candid's invisible, removable, and comfortable aligners will give our patients in Sudbury the beautiful straight teeth they have always wanted. We've found that the best part for our Sudbury patients is that, no one can tell you're wearing them. Candid is great for adults and teenagers.
What is Candid?
Candid is the invisible way to straighten your teeth without braces.
Candid uses a series of clear, removable aligners to straighten your teeth without metal wires or brackets.
Candid has been proven effective in clinical research and in orthodontic practices nationwide.
How Does Candid Work?
You wear each set of aligners for about 2 weeks, removing them only to eat, drink, brush, and floss.
As you replace each aligner with the next in the series, your teeth will move little by little, week by week - until they have straightened to the their final position.
You'll visit us about once every 6 weeks to ensure that your treatment is progressing as planned.
Total treatment time averages 9 - 15 months and the average number of aligners during treatment is between 18 - 30, but both will vary from case to case.
How Are Aligners Made? You'd Be Amazed...
The aligners are made through a combination of our expertise and 3-D computer imaging technology.
Here are some other advantages of the Candid Co system:
Improved Oral Hygiene — With an orthodontic appliance that is removable, you will be able to clean your teeth much more easily than if you were wearing metal braces.

A Discreet Look — If you consider your orthodontic treatment to be a private matter, or simply feel that metal braces don't fit with your self-image, a practically invisible form of orthodontic treatment might suit you.
More Dietary Choices — To protect metal wires and braces, some diet modifications are necessary. With clear aligners, you can still bite into an apple or a crispy pizza crust.

Comfort — The thin, flexible material of which Candid is made will not irritate the soft tissues of the mouth, as metal wires and braces can.

Teeth-Grinding Protection — If you have a teeth-grinding or clenching habit, clear aligners can function as thin nightguards that will protect your teeth from excessive wear.

Clear aligner technology has been improving over the years and can correct many malocclusions that once would have been too complicated for this form of treatment. Yet there are still some situations for which traditional braces would still be best.
Caring for Your Teeth During Candid Treatment
As mentioned above, one of the main advantages of the Candid system is that the trays can be removed for easy cleaning. So please don't neglect to do this! You'll need to brush your teeth after every meal or snack so that food and plaque do not get trapped in the aligners, which could promote tooth decay and gum disease. Your aligners, too, will have to be cleaned regularly; you can do this by brushing them and then rinsing them with lukewarm water.
Also, please keep in mind that while wearing clear aligners is very different from wearing braces, the importance of retaining your post-treatment results is exactly the same. You'll want to be sure to wear your retainer(s) exactly as prescribed after your treatment is completed to protect your investment in a beautiful new smile.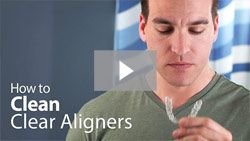 For more information on Candid in the Sudbury, MA area
Call Millbrook Smiles at (978) 443-5500!